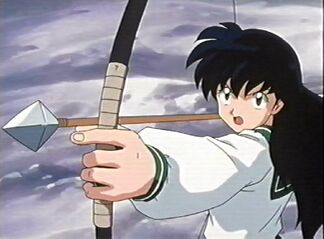 Kagome Higurashi (January 14th 1919) was the grand-daughter of the keeper of Higurashi Shrine, a shintō shrine near Tokyo. Unbeknownst to her and her family, Kagome was the reincarnation of Kikyo and the bearer of the Jewel of Four Souls. She would later learn of this and her importance through Kaede, Kikyo's younger sister. She later at the age of 14 moved to Russia in 1931 where she planned on becoming a Princess due to her heritage of her family tree.
Meeting Europe Rivera
Edit
While celebrating her fifteenth birthday in 1934, Kagome was ordered by Joseph Stalin to come with him to the peace agreements with Nazi Germany in order to prevent a future between the 2 Dictators. Kagome refused it replying "Today is my birthday I don't wanna go to Europe now I've got things to do." Without any signs of Argument Stalin Dragged Kagome to The airport and they flew to Europe landing In Berlin. Kagome's anger at Stalin quickly dropped when Europe Rivera came to be. He replied to her like an English gentleman and spoke with a German accent. "Greetings I'm Jerry Rivera." As soon as Europe offered his hand to shake Kagome shakes it but tightens her grip on it, while the two were chatting Stalin ruined Kagome's conversations brutal ling embarrassing, as of Hitler did the same to Europe. as soon as both Stalin and Hitler agreed of their truce for world power Kagome smiled at Europe before leaving, but Europe was too occupied looking at Hitler's expression on his face before they departed his reply to Hitler was frail. "Yeah Right"
World War 2
Edit
Vietnam War
Edit
Relationship with Europe Rivera
Edit
World War 3
Edit
Rivera 9 War
Edit
Rivera Federation War
Edit
Death Rivera
Edit